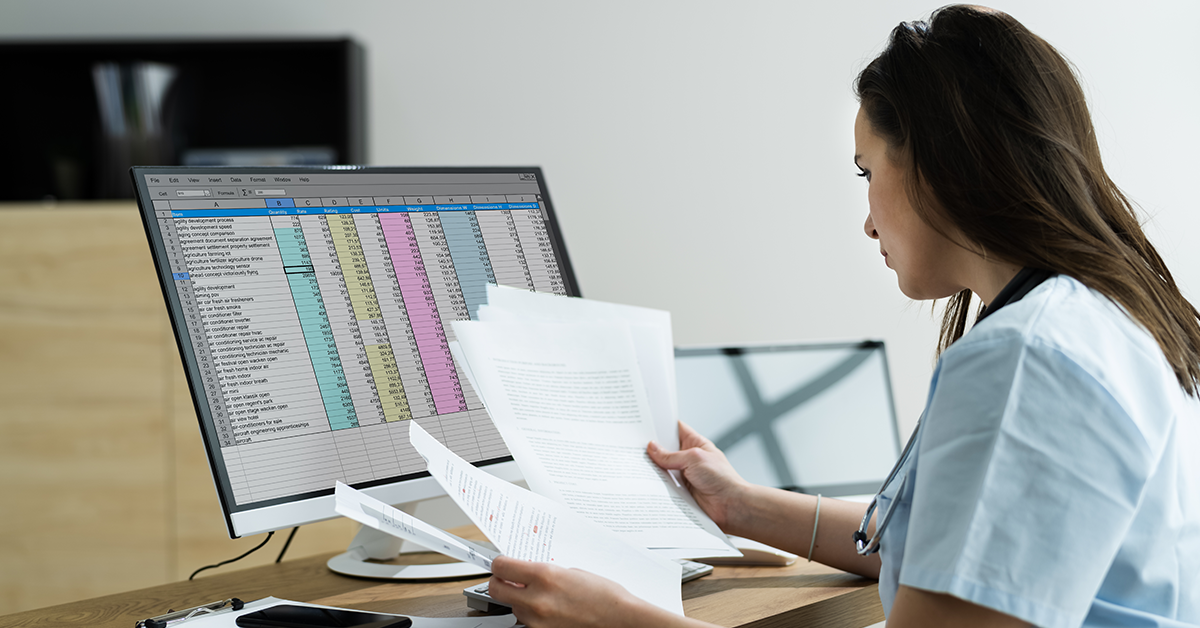 According to a study by the American Lung Association, 16.4 million people reported a diagnosis of chronic obstructive pulmonary disease in 2018. As clinicians in pulmonology face an increasingly multiplying influx of patients with pulmonary problems and lung disease, they need to have a more comprehensive understanding of the CPT codes of pulmonary procedures along with the proper documentation of these services. This is so that their facility can ensure compliance and avoid payment issues in the long term.
What Are Pulmonary Function Test CPT Codes?
A pulmonary function test is a set of common diagnostic tools used by respiratory therapists to diagnose and manage pulmonary disease in patients. The test is designed to measure the patient's pulmonary parameters with a series of several non-invasive tests that allow the physician to assess the patient's pulmonary disease pattern, lung capacity, and degree of impairment.
Reimbursement of this diagnostic test is governed by a set of pulmonary function test CPT codes that are used to classify and describe the individual procedures done under the pulmonary function test. A pulmonary function test is commonly used to determine:
The presence of any abnormality in the functioning of the lungs,
The type of any abnormality,
The degree of impairment due to the abnormality,
The patient's response to any current course of therapy and its effectiveness, and
The best course of treatment for the patient's condition.

Challenges with Coding For Pulmonary Procedures
Coding for respiratory and pulmonary services can be an extremely complex and extensive process that requires rock-solid documentation to support it, which is not as straightforward as it seems. Although medical facilities are looking to maximize their revenue, it is also important to avoid practices that could end up costing you a lot of money in the long run. This is because auditors and insurers scrutinize bills much more intently when it comes to pulmonary services.
Several skilled professionals face difficulties when coding and billing for pulmonary procedures. Something as simple as finding the right pulmonary function test CPT code for a procedure can prove to be very challenging if someone does not have the right instructions to guide them. In addition to selecting the right code, the coder also needs to ensure that supportive documentation evidencing the condition and treatment plan for the patient is recorded in their medical record. This can be a tall task in itself.
Types of Pulmonary Function Tests (PFT)
Various types of pulmonary function tests are used according to the type of information the physician is looking for, with each test having its own pulmonary function test CPT code.
Here are some of the most common pulmonary function tests:
1. Spirometry
Spirometry is one of the most critical components of PFT that forms the basis of most pulmonary function tests. Spirometry measures how quickly air can be moved out of the patient's lungs along with the volume of air that can be moved out (vital capacity). The pulmonary function test CPT code for spirometry is 94010.
A graphic record of the spirometry and the expiratory flow rate measurements should be documented in detail along with the total timed vital capacity of the patient. Another pulmonary function test CPT code for spirometry is 94060. However, this code is reported separately to 94010 and is only selected when spirometry is performed before and after the administration of a bronchodilator to check for responsiveness to the bronchodilator.
2. Plethysmography
Commonly used to distinguish between restrictive and obstructive lung diseases, plethysmography is used to determine the lung volume during different stages of the breathing cycle and to identify any resistance in the airways. The pulmonary function test CPT code for plethysmography to measure lung volumes and capacities is 94726.
3. Gas Dilution
Similar to plethysmography, gas dilution (pulmonary function test CPT 94727) is used to measure lung volume. In addition, it is also used to measure residual volumes and the distribution of ventilation. In CPT code 94727, the patient breathes from a container containing a known amount of gas (usually helium) while the physician monitors how the concentration of gas in the container changes. It is important to note that this code should not be reported with pulmonary function test CPT code 94726.
4. Diffusion Capacity (DLCO)
Useful in distinguishing between intrinsic and extrinsic pulmonary procedures, the DLCO test is used to quantify the degree of parenchymal destruction in patients with chronic obstructive pulmonary disorders. It is also used to evaluate pulmonary vascular diseases and interstitial diseases. The need for a DLCO usually arises when spirometry and lung volume tests show signs of restrictive disease. The pulmonary function test CPT for diffusion capacity is 94729 and is usually an add-on code most commonly used in conjunction with codes 94726, 94010.
5. Pulmonary Stress Testing
The pulmonary stress testing is done to assess the patient's lung's functional capacity by monitoring the integrated response of the pulmonary systems when an increased workload is added to them.
There are three tests that come under pulmonary stress testing:
Six-Minute Walk Test – Pulmonary Function Test CPT Code 94618
Cardiopulmonary Exercise Testing – Pulmonary Function Test CPT Code 94621
Bronchospasm Exercise Test – Pulmonary Function Test CPT code 94617
Other Pulmonary Procedures
Here are some other pulmonary procedures and their relevant codes:
1. Aerosol Treatment (CPT Code 94640 or 94644 & 94645)
Aerosol treatment is a unique form of administering medication where the drug is administered directly into the airways or lungs in the form of aerosols usually through an inhaler. If the patient's aerosol treatment is of less than 1 hour, then CPT code 94640 is documented. However, if the patient receives continuous inhalation treatment for more than 1 hour, CPT code 94644 is billed for the first hour, and CPT code 94645 is billed for each additional hour after the first.
2. Demonstration and/or evaluation of patient utilization of an aerosol generator
CPT 94664 is coded for the demonstration of a device (commonly inhalers). During this brief session, patients are educated and trained on how to use their devices like inhalers and spacers. This service is usually paid for only once per beneficiary by the same insurance company.
3. Smoking Cessation
Since 2014, smoking cessation counseling and interventions for adults who use tobacco have also been covered by Medicare. The CPT codes used to bill for smoking cessation counseling are:
99406: Intermediatecounseling visits lasting from 3-10 minutes.
99407: Intensive counseling visits lasting greater than 10 minutes.
Medicare covers only two cessation attempts annually with each attempt including 4 counseling sessions.
Bottom Line
Ideally, pulmonologists, respiratory therapists and any other healthcare provider for that matter, is primarily concerned with delivering the best possible care to their patients. However, in order to sustain their practice, clinicians and providers must spend a considerable amount of time selecting the proper code for the healthcare services they provide.
An in-depth understanding of the principles of the coding and billing system for pulmonary procedures can help physicians ensure that they are adequately reimbursed for all the procedures they perform.