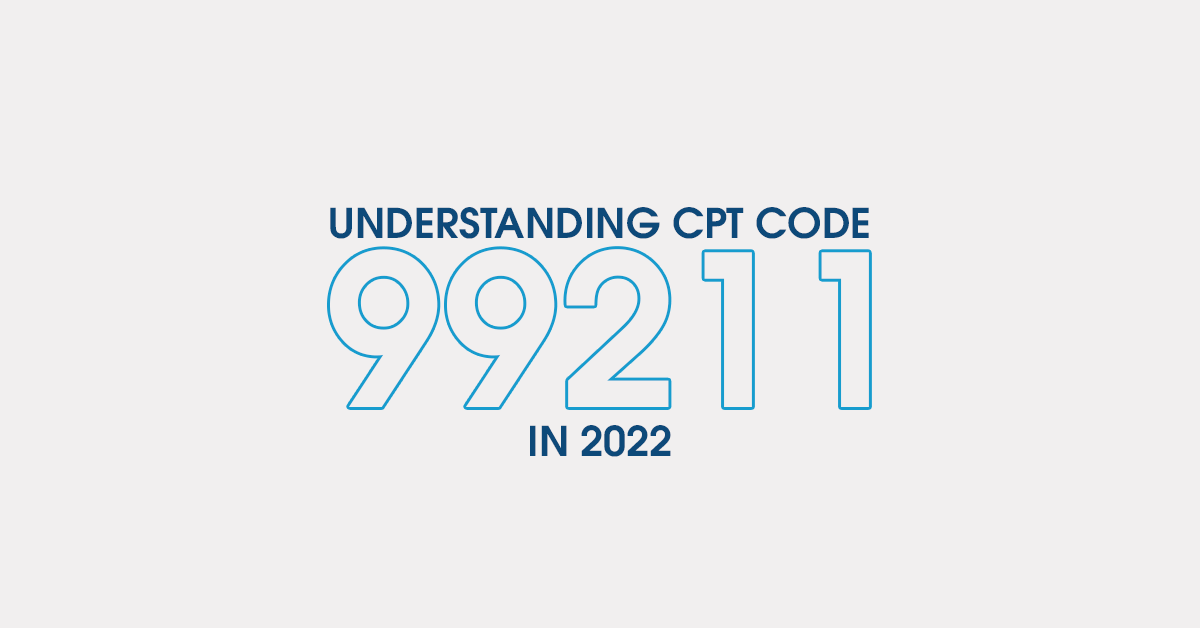 As of January 01, 2022, the American Medical Association made over 400 changes to the Current Procedural Terminology (CPT) code set. This included the addition of 249 new codes, 93 revisions, and the deletion of 63 CPT codes.
One of the key changes introduced in the 2022 CPT code set was a slight tweak to the CPT established patient encounter code, 99211. CPT code 99211 is used to document an in-person encounter with an established patient where the encounter consists of both elements of assessment: management and evaluation.
While this change to CPT 99211 may seem minimal on paper, it potentially changes the rules by which this code is used and documented by a medical coder entirely. Unfortunately, many healthcare providers already struggle to understand when they should use this code, and without understanding this new change to the code descriptor, they may be inviting several claim denials their way.
But what is this new change to CPT 99211 and how can healthcare providers accurately document and report this code in 2022? In this article, we explore the new coding update to CPT 99211 along with detailed guidelines and examples that can help you accurately use this code in different situations.

Change in the Descriptor for CPT 99211
Effective from the first of January 2022, the AMA revised the descriptor for their level-1 outpatient/office evaluation and management code for established patient-physician encounters, CPT 99211, to delete the phrase "usually, the presenting problem(s) are minimal" from it. (Source)
99211 CPT Code 2021 Description
The AMA's coding guidelines described CPT 99211 as an "Office or other outpatient visits for the evaluation and management of an established patient, that may not require the presence of a physician or other qualified healthcare professional. Usually, the presenting problem(s) are minimal."
The 2021 code descriptor for CPT 99211 removed the time component associated with this code by removing the sentence "Typically, five minutes are spent performing or supervising these services" from this its previous description.
The 2021 E/M coding guidelines also defined "minimal", as stated in the 2021 descriptor, as a problem that may not require the presence of a physician or any other medical professional's presence but the healthcare service is performed under the guidance or supervision of a physician or any other qualified healthcare provider.
99211 CPT Code 2022 Description
The 2022 CPT code book describes CPT 99211 as an "Office or other outpatient visits for the evaluation and management of an established patient, that may not require the presence of a physician or other qualified healthcare professional.1" (Source)
The 2022 CPT coding rules further edited the descriptor of CPT code 99211 to remove the phrase 'Usually, the presenting problem(s) are minimal' to eliminate any confusion that arises when trying to consider what qualifies as a minimal problem and what does not. Additionally, this edit to CPT 99211 helps it become more in synch with the other outpatient/office E/M codes 99202 to 99215.
However, it is important to remember that this change does not mean that the code represents an evaluation and management service provided by a physician or other healthcare professional. The code still represents a lower level of an E/M service performed by the clinical staff as part of their established care plan.
Keep in mind that while the word 'minimal' has been removed from the descriptor, its definition remains in the coding manual for 2022 under the section "Guidelines for Office or Other Outpatient Services".
Using and Documenting CPT 99211 Accurately
CPT 99211 is reported when a healthcare provider, other than a qualified healthcare professional or physician such as a nurse, performs an E/M service for an established patient as a part of their plan of care devised by a healthcare professional.
When reporting 99211, make sure the documentation includes anything the NPP (nonphysician practitioner) did such as vitals, discussing current medications, or answering patient questions. Documentation should also include the reason for the visit and the diagnosis, along with any applicable orders or discussions the NPP had with the physician about the patient.
While the service will be performed by a member of the clinical staff under the supervision of a healthcare professional, that member of the clinical staff cannot report that service. Instead, the qualified and licensed healthcare professional will report that service independently and must provide the necessary documentation of a clinically necessary and relevant exchange of data with the patient. This documentation must include credentials and other necessary details of the service provider and the healthcare professional supervising the service while the notes of the physician should indicate their degree of involvement in the service.
Here are a few guidelines that will help you better ascertain when to use CPT 99211:
An E/M Service Must Be Provided
Since CPT 99211 is an E/M code, it is worthwhile to remember that it can only be used when an E/M service is performed. This means that the service must compose of one of the three main constituents of an E/M service: an examination of the patient, history taking or review, and some degree of medical decision making. For example, if a patient comes into your clinic to pick up their medications, then no E/M service is performed and thus CPT 99211 should not be reported.
The Patient Must Be Established
An established patient is a patient who has been provided any medical services, E/M service or otherwise, from the provider in question or another provider of the same specialty and subspecialty within the last three years.
To help you better understand who may be an established patient for you, let's take a look at an example. A patient, Mr. John Doe, visits Dr. Marry Jackson, a gastroenterologist, at the Clinic X with complaints of abnormal bowel movements. Following his visit, Dr. Jackson leaves Clinic X. When John Doe returns to Clinic X for a follow-up visit, he is referred to Dr. Sarah Gonzales, who is also a gastroenterologist. Even though Dr. Jackson has left the clinic, John would be considered an established patient for Dr. Gonzales since both Dr. Jackson and Dr. Gonzales are of the same specialty.
My comments:
Scenario is US based. Although there are multi-racial, multicultural, and ethnically diverse environment, commonly iced identities shall be sued.
In Europe and USA, when a title like Dr., Mr., Mrs., Miss or Professor is used either with both first & last name together or only with last name. First name only is an informal way of addressing and it is never used with the title.
When addressing informally, use only first name without the titles.
CPT 99211 cannot be reported for a patient who is new to the healthcare professional.
Patient-Physician Encounter Must Be Face to Face
CPT 99211 cannot be reported for services provided online or over the phone.
The Service Must Be Medically Necessary
The services provided to the patient must be clinically indicated by a healthcare professional and must be a part of their plan of care. Additionally, the E/M service must be separate from any other service provided that day and should have enough clinical evidence to support its need.
The Supervising Physician Must Be Present At The Time of Service
To report CPT 99211, payers require that the supervising physician or healthcare professional is in the office when the service is provided. However, the supervising physician can be anyone, (such as nursing staff, medical assistants, or technicians, who must document the visit just as a provider would. Common examples include hypertension or wound checks by a nurse or medical assistant) and does not need to be present in the same room where the healthcare service is provided. They don't even have to be the one who has created the patient's plan of care. However, the service must be billed for under the name of the supervising provider present at the facility at the time and not the physician overlooking the overall care of the patient.
See Also: What Are The Newly Added CPT Codes For The Covid-19 Vaccine?
The Bottom Line
While coding for CPT 99211 may seem confusing, it is an E/M code that you will often encounter in your day-to-day practice. This is why it is so important that healthcare providers have the necessary knowledge and understanding needed to accurately report 99211 service to avoid claim denials.
With the ever-changing complexities surrounding medical coding, it is getting increasingly difficult for physicians to keep up with the newest changes in coding rules and regulations. This is why so many practices rely on third-party medical billing and coding services for quick and clean reimbursements.
If you're to looking enhance the quality, precision, and timeliness of your practice's medical billing and coding system, consider outsourcing your medical coding and billing to Precision Hub. With robust data-powered solutions and a dedicated team of billers and coders, we are committed to delivering top-quality medical billing services to all our clients at a low cost so that they can focus on growing their practice and improving patient-cantered care. Contact us today to know more.
References
American Medical Association. (2021). CPT | Changes 2022: An Insider's View. Chicago, IL, USA.
"Practice Notes from the AAAI", The Journal of Allergy and Clinical Immunology: In Practice, 2020