In healthcare, managing the revenue cycle is a crucial and demanding task influencing the organization's capacity to continue in business. Revenue cycle management abbreviated as RCM is the method of tracking and collecting payments for all of a healthcare organization's services and products. When a company's coding and revenue cycle management process is robust and efficient, it is much simpler for them to concentrate on providing excellent patient care. It helps bring in money on time, maintains steady collections, and keeps the firm afloat.
RCM consists of billing, validating insurance, determining who is qualified, obtaining pre-approvals, filing claims, and collecting post-payments. RCM aims to ensure that patients are billed for services on time and that payments are collected consistently. By implementing and maintaining an effective RCM process, organizations can improve their financial stability and guarantee that patients receive quality care.
Keep on reading to learn more about coding and revenue cycle management.
This article covers all the important information about revenue cycle management in medical billing. Let's explore what coding and revenue cycle management are.

What Is Coding and Revenue Cycle Management?
Coding and Revenue Cycle Management refer to the administrative and financial processes related to patient registration, benefits verification, coding, claims processing, payment, and collection. These are all crucial revenue-generating operations for a firm. Medical coding turns complex medical information, data, and documents into alphanumeric codes to facilitate patient communication, billing, and collection.
RCM is a financial procedure used by healthcare organizations in conjunction with medical billing software to track individual patient treatment episodes. This process begins when a patient registers with the institution, schedules an appointment and continues until the patient has paid off their entire amount.
It bridges the gap between the administrative and clinical parts of the healthcare industry by linking administrative data. It includes patient's name, insurance provider, and other personal information, with clinical data, such as treatment and health information.
All administrative and clinical actions that contribute to the capture, management, and collection of patient care revenue constitute the "revenue cycle." The entire patient account life cycle is covered, beginning with appointment scheduling and concluding with payment acceptance.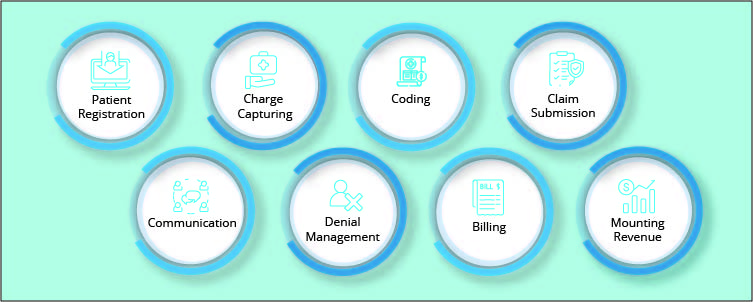 Process of Revenue Cycle Management in Medical Billing
The process of RCM in medical billing comprises the following components.
Patient Registration: This stage initiates the RCM operation. It entails obtaining the necessary information from patients. It may include their home address, email address, telephone number, date of birth, and insurance information. The patient also goes through the stage of prior authorization. The process encompasses determining that the service, procedure, or medication is covered by insurance.
Charge Capturing: All pertinent patient information is obtained to alert them of the service costs.
Coding: Numerous codes are used in the medical billing industry to indicate various medical treatments and illnesses. When it's time to pay out, doctors and hospitals provide insurance companies with reference codes.
Claim Submission: The claim is forwarded to the insurance company once the charges have been converted into codes. Each medical code has its fees and repercussions.
Communication: If your health insurance provider can process your medical claim, you will receive payment as soon as possible. However, if your insurance company discovers errors in your claim, they may send it back to you for correction.
Denial Management: The RCM professionals resolve the issue in case of claim rejection. Denial management ensures that the claim is free of coding errors and is timely submitted.
Billing: Patients must frequently pay for a portion of their medical care out of pocket. After the patient's insurer has paid, this sum is calculated.
Mounting Revenue: Now that the payment procedure has been completed, it is time to investigate all RCM operations. It determines how well and how long this procedure works and what could be done to improve it. Adjusting these coding and revenue cycle management areas will boost your income and payment receipt more rapidly.
Process of Medical Coding
Following are the stages that comprise medical coding:
Utilize VPN connections to access patient medical records and evade the secure network.
Coders in the medical industry verify the accuracy of papers before grouping them for processing.
Both coding rules and client preferences are considered when assigning all code requirements.
Coding is performed according to NCCI and LCD standards.
The quality is examined to verify that it is satisfactory.
Outsourcing Coding and Revenue Cycle Management
Due to the significance of expanding and enhancing healthcare, revenue cycle management is gaining importance within the sector. As a result of the efforts of organizations specializing in RCM, the Healthcare RCM industry has been gradually expanding.
Numerous small and medium-sized doctor's offices in the United States struggle with billing and payment. RCM is becoming increasingly difficult due to the complexity of establishing an independent medical practice.
As government rules, payer standards, reformed coding, and performance measures evolve rapidly, billing departments of physician practices may experience confusion. RCM Teams struggle to survive, putting at risk a practice's financial flow and medical income.
If your practice needs assistance, it may be prudent to outsource your RCM to third-party experts like Precision Hub. Outsourcing your coding and revenue cycle management can avoid 90% of claim denials. It will also help you earn significantly more money and resolve several concerns. Your healthcare organization requires efficient revenue cycle management to earn money more quickly and prepare for the future. An efficient RCM streamlines the revenue cycle and ensures that payments are processed with minimal impact on the organization's ability to care for patients.
Conclusion
Healthcare providers must boost their bottom line by ensuring they have the proper documentation and coding. It can be accomplished by generating more revenue. Collaborating with a company specializing in coding solutions, such as Precision Hub (PH), is one method to offer experienced services, such as coding, billing, and audits, to providers as needed.
Precision Hub's unique blend of delivery resources is advantageous to any Revenue Cycle Management team seeking to boost their ROI. It results in an affordable solution for coding and revenue cycle management.
As a partner in end-to-end revenue cycle management solutions, PH understands the importance of precise, efficient, and comprehensive medical coding for a high-performing revenue cycle.
Our revenue cycle coders are trained and proficient in ICD-10, CPT4/HCPCS, MS-DRG, and other classification systems. They provide payers with revenue coding services that are high-quality, accurate, and timely. So, hire us now to improve your coding and revenue cycle management. Moreover, if you have any questions regarding revenue cycle management in medical billing, please get a consultation with one of our RCM consultants.